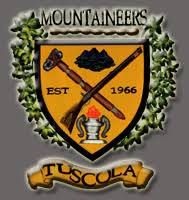 Located in the beautiful mountains of Western North Carolina, Tuscola High School has been a part of the community life of Waynesville and Haywood County since 1966. Citizens, students, and faculty enjoy the small-town atmosphere while having quick access to the larger and more diverse city of Asheville twenty-six miles to the east via Interstate 40. Though the school began as a high school encompassing grades 10-12, the ninth grade joined the high school in 1993.
The vision statement of the system– Success for Today, Preparation for Tomorrow, Learning for a Lifetime–perhaps best illustrates the goals of THS for the students. Offering eight Advanced Placement and nineteen honors level courses, Tuscola strives to encourage strong academics. Our SAT scores are consistently above the national and state averages; eighty-eight percent of our graduates pursue post-secondary education.
Our diverse curriculum–emphasizing achievement in the core areas of science, mathematics, social studies, English, foreign language, and cultural arts–is a factor in student success. Varied opportunities exist for students in technological, vocational, business, and military arenas as well as in health and physical education.
THS is especially proud of its cultural arts department, staffed by outstanding choral, music, drama, and visual arts teachers who consistently compete and excel among other schools in the region and state. Band director, Mr. Dillon Ingle, along with his many talented assistants, continues to lead the Tuscola instrumental music program and the Marching Mountaineers to new heights of excellence in performance.